AXEL HARDY SHOWCASED HER COLLECTION "DO WHAT YOU CAN"
*Designer's new outfits were presented in the first ever "Phygital" review in Bulgaria
Ivana Stoyanova
The show of Axel Hardy's upcoming 2020/2021 autumn-winter fashion collection took place during the first ever "Phygital Catwalk" in Bulgaria. The form of presentation was an open-air live show in Veliko Tarnovo's Archeological Museum, which was also live-streamed in the digital space, thus being accessible to the fashion community of the brand. The collection's logo "Do what you can" was inspired by the complex situation in which we are all in, and is a reminder to not give up and go on doing things.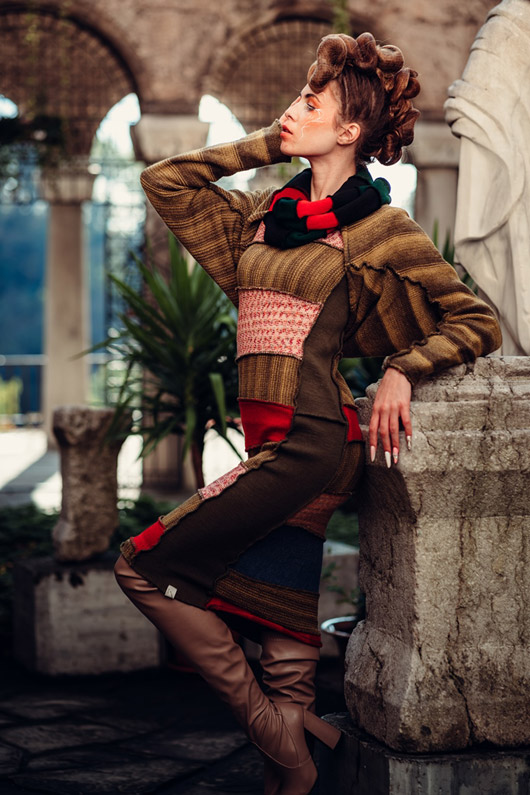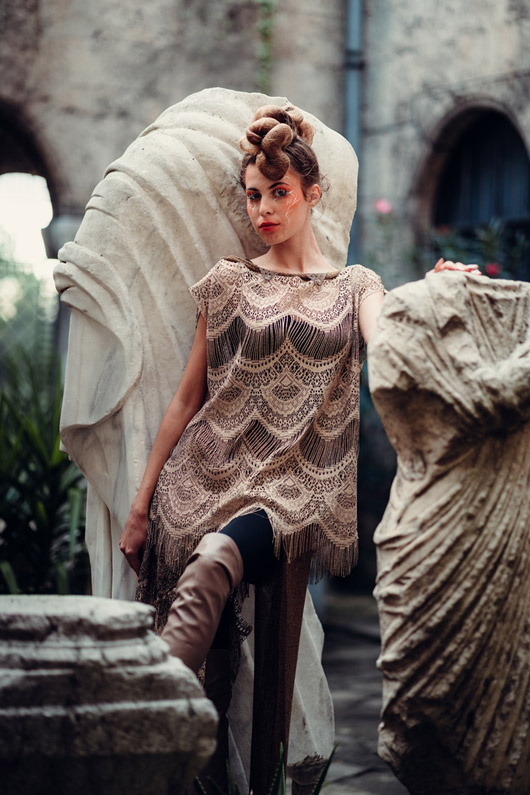 Though viewing online, those present had the opportunity to fully enjoy the attractive innovative show which the organizers had devised. The models dressed in the new clothing of the brand walked the improvised catwalk provided by the museum's beautiful corridors, while designer Axel Hardy, bearer of Golden Needle for Fashion Innovation, was excited to state: "As a designer I am willing to showcase my new fashion collection and in order to do so, I did my best for this to happen. In spite of all odds, I am of the opinion that we should never stop creating, working, and enjoying our lives."
That is why, the Do-what-you-can fashion collection is charged with positive energy. Beside the "Do what you can" message due to the restrictive pandemic situation, Axel Hardy has created a bold and provocative selection of combinations. There are coats in fresh colors, in patterns of shepherd's plaid and bright or pastel checks, and also various dresses made of boucle, velvet, and taffeta. The cloths are fluffy and soft, colored in grey, cyclamen, red and ecru. Among the outfits one can notice very fine knitwear in floral and leopard prints.
The collection is made colorful and versatile by the fresh air of gothic and punk which Axel has skillfully applied. Every single item of the Do-what-you-can show can easily be adapted to a number of various styles just as chameleons do. A dress, for example, can be part of a rebellion punk vision when aided by the appropriate hair style, make-up and accessories, but, on the other hand, can also suit everyday purposes.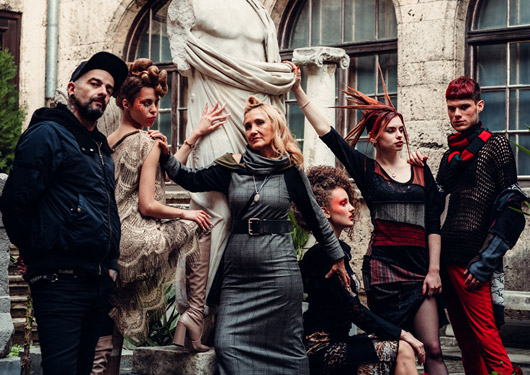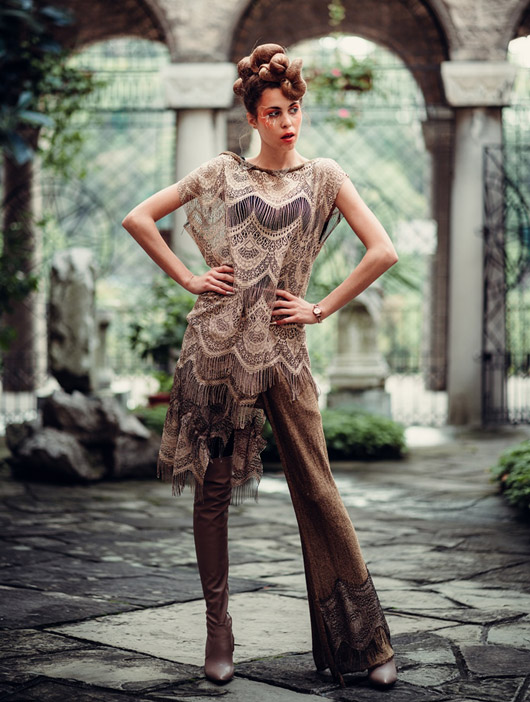 A characteristic feature of Axel Hardy's work is the use of natural materials, such as alpaca, cashmere, wool, cotton and viscose, whereas the combinations of velvet, checkers, large pepite and hand-woven checkered cloths have become emblematic for the brand.
A number of people took care of the attractive presentation: Stanislav Gaytandzhiev of the Happy Scissors Hair Styling Studio, who created the models' punk hair styles; Deyan Hristov, the make-up artist who loves experiments; Vasil Kosev, a young photographer, and models: Androniki Parvanova, Emily Dimitrova, Julia Todorova and Deyan Hristov.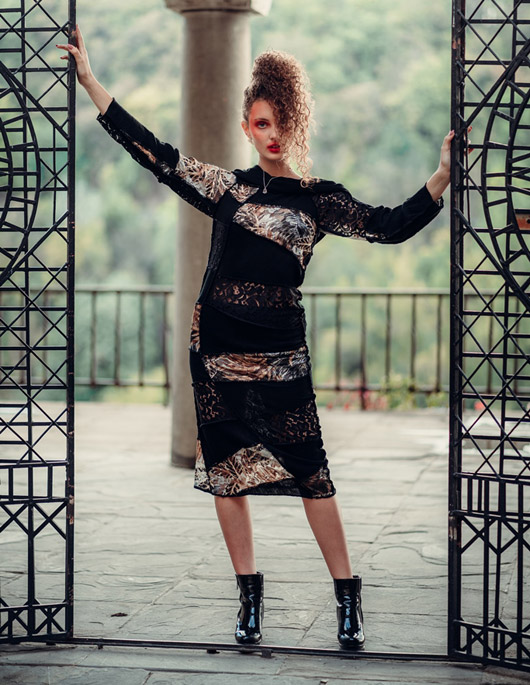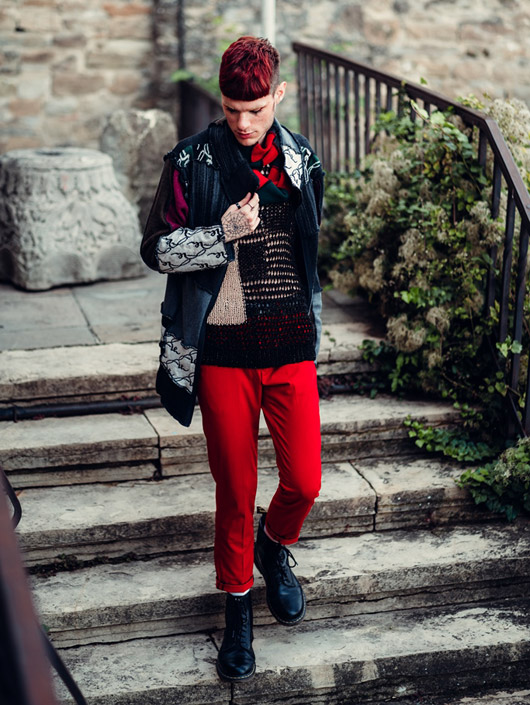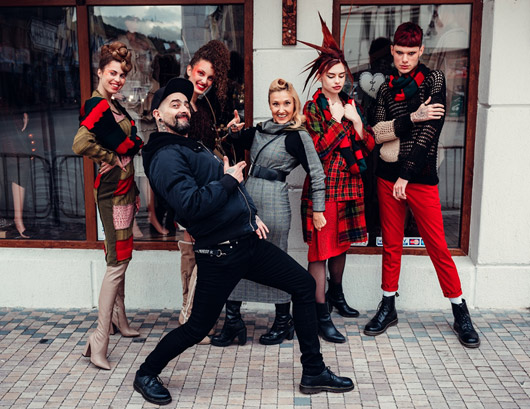 Photos:

1. – 3. Outfits (Axel Hardy's upcoming collection).

4. Axel Hardy and the "Phygital" crew.

5. – 7. Outfits (Axel Hardy's upcoming collection).

8. Axel Hardy and the "Phygital" crew in front of the brand's boutique in Veliko Tarnovo.
Photo: Vasil Kosev


Hits: 1 | Leave a comment
More Articles from this author