A new cluster alliance has been created to promote green and digital transition for the fashion industry
CLOTH project - CLuster Alliance fOr the Transition to green and digital fasHion - is the newest european alliance within the Fashion sector, aiming to create a favorable ecosystem of relevant stakeholders, from a cross-sectoral perspective, that lead to a greener, smarter and more competitive and innovative European Fashion sector.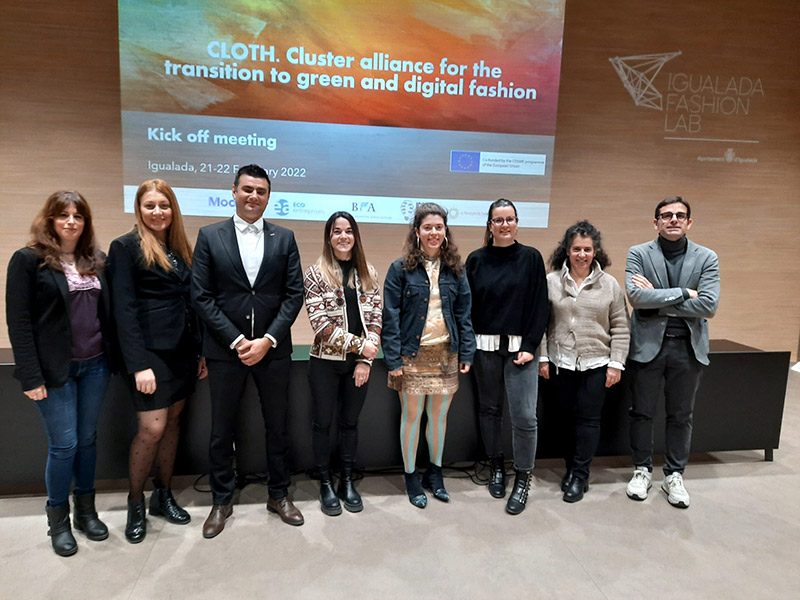 The CLOTH project is integrated by a cross-sectoral partnership of 5 partners from 5 European countries (Spain, Bulgaria, Romania, Denmark and France) that are working on different value chains: Fashion and Textile, circular economy, creative industry and Digital.
In order to achieve these objectives, CLOTH partners will develop and organize a series of activities.
During the first phase, the consortium will analyze the trends and challenges of the textile and Fashion sector in each one of the participating regions and countries and will create a map of the industry. The objective is to obtain a real picture of the textile and Fashion ecosystem and to identify the solution which might help the Fashion sector to become more circular and sustainable.
Using the map and the analysis of data, the consortium will build a roadmap for long-term cooperation. This will be worked through updating the individual clusters strategy to align its content to the common partnership strategy, improving the Clusters labeling level, defining and approving a common partnership strategy and a roadmap for its implementation, defining and implementing the capacity building programme to advance towards cluster excellence.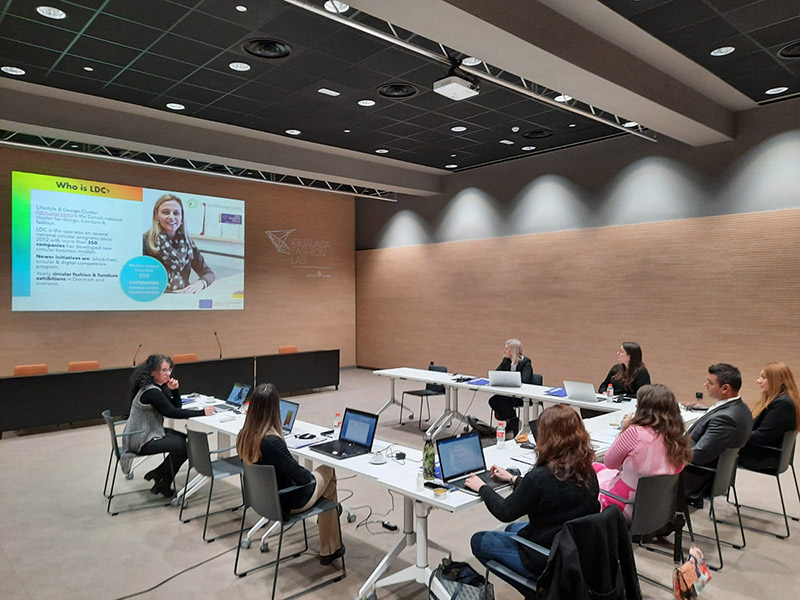 Fashion platform dedicated to SME`s and relevant stakeholders

During this project it will be designed as a Fashion Platform to support clusters` members to share know-how, experiences, best practices and advance towards a more competitive, greener, smarter, and international Fashion sector. At least 50 SME`s and other relevant stakeholders are expected to participate in the Fashion Platform at the end of the project.

Also, the consortium will define and implement a ClusterXchange programme. During this programme it will be offered an integrated training programme addressed to the Clusters managers and other clusters members to improve their management skills, as well as technical and entrepreneurship knowledge.

Short-term exchange during the Fashion ClusterXchange programme

During the Fashion ClusterXchange programme there will be organized minimum 100 short-term exchanges between targeted members of clusters located in other countries. These exchanges include SME`s (75), cluster organizations (10), Scaling-Up support organizations (5), large companies (5), public companies (5). This activity will facilitate the exchanges of experiences and best practices among SMEs and clusters. Also, the exchange programme will create and promote business opportunities in the Fashion industry from a cross-sectoral dimension, including Fashion value chains, circular economy and digital ecosystem. The clusterXchange programme will offer an attractive set of activities that address real needs of SMEs.

The CLOTH project is funded by the European Innovation Council and SMEs Executive Agency (EISMEA), under the powers delegated by the European Commission, COSME programme, call COS-CLUSTER-2020-3-03 / COS-CLUSTER-2020-3-03-1 (European Cluster Excellence Programme with ClusterXchange scheme connecting ecosystems and cities).

Partners:
Agrupació Catalana del Tèxtil i de la Moda (Modacc) - Spain
Bulgarian Fashion Association (BFA) - Bulgaria
EA Eco-entreprises Association (EA) - France
Asociata Iconic Cluster (ICONIC) - Romania
Lifestyle & Design Cluster (LDC) - Denmark


Hits: 1 | Leave a comment
Author: Silvia Kabaivanova
The voice of the professionals in the men's suit business
If you want to share your knowledge and contribute to the site, please email us at contributor@bgfashion.net Don't miss this opportunity as this will be a free advertisement for yourself and your menswear brand.
More Articles from this author