Bulgarian folklore in fashion: Apparel, accessories and home decoration with folk motifs
Deliana Simeonova is the creator of Gaitani New York (Gaitani NY) - an online boutique, offering women's, men's and children's clothing, accessories, home decoration and paper products, inspired by folk motifs, symbols and memories of Bulgaria, combined with modern design.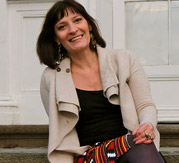 Deliana has several professions, she is an organizer by nature and immigrant in the US. Gaitani New York is her dream come true. 'With all my heart I wanted to create a place to display with pride the traditions and creativity of my beautiful Bulgaria', she says.
Gaitani NY works with Bulgarian and international designers and all their products are handcrafted in limited quantities - as a guarantee that you will have something really special.
Part of the proceeds of Gaitani NY goes to support social justice causes in Bulgaria and the United States.

We offer you a short interview with Deliana to learn more about her and
the Gaitani's products:
- Deliana, would you tell us a little bit more about you? What did you do in Bulgaria before you move to the USA, how long have you been there, when did you start GaitaniNY?
- I live in the US for past 6 year, but I've been living here before as well as in several other countries worldwide. I'm used to live abroad, but I love Bulgaria and always think about it. I have a bachelor's degree in Philology from Sofia University and master's degree in Social work from New York. I worked as a translator, a consultant for international humanitarian projects and a social worker. I've started Gaitani NY project 3 years ago in New York, while the store opened last year. It is the result of my nostalgia - it gives me the opportunity to live in Bulgaria every day, even though I am far away.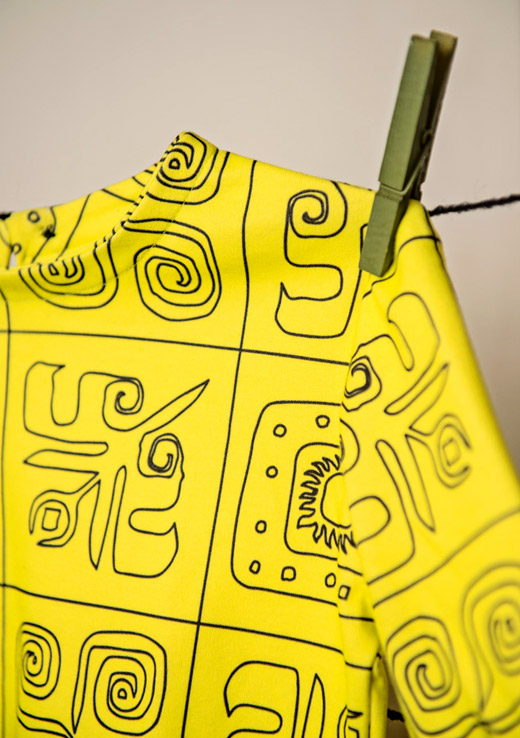 Children's blouse with symbol Elbetitza, textile design: Nikolai Shushulov


- Did you know something about the symbolism and creating techniques of Bulgarian embroidery before opening the boutique?
- Bulgarian embroidery, costumes, carpets and silver jewelry from the past have always impressed me, but I didn't have a special interest in them while living in Bulgaria. When I lived in other countries (in Asia and Africa), my interest was directed towards traditional clothes and craftsmanship techniques of local people, so I was impressed by them! Definitely, my interest in Bulgarian folklore motifs was born here - in the USA. And I think that the key reasons are: first, my emigrant nostalgia - my love for Bulgaria, the need to keep in touch with it and my own identity, to have a daily contact with things from our country, which are beautiful, inspire me, and give me pride and joy. The second reason is the great interest in the USA to ethno-design - both authentic and interpretative - modern development of traditional motifs from Africa, India, Mexico, Central Asia, US West, Turkey, Indonesia, Ukraine, etc. From clothes, bags and jewelry to pillows, curtains and furniture - all companies and designers create either special collectionsВ  with ethno-design or include it as an element in their work. This fashion trend is becoming stronger in recent years. And I noticed that the Bulgarian motifs are unknown in the USA and started picking Bulgarian ethnographic books and pictures, also found American editions. Then I saw our traditional design with new look, rediscovered it for myself. So I got the idea for Gaitani NY. I wanted to find approaches that represent traditional Bulgarian art in a contemporary look, avoiding the souvenir style and creating new links between past and present.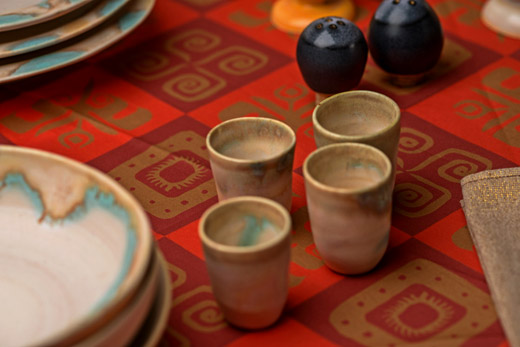 Table cloth from collection 'Elbetitza',
Textile design: Nikolai Shushulov,
Ceramics: Miu Asakawa


- What approaches did you choose to present the Bulgarian motifs?
- Well, one is to use original traditional materials to create contemporary objects. For example, jewelry by Bulgarian artist Bogdana Topreva, which weave ancient Bulgarian embroidery in silver or handbags by Bulgarian craftsmen Bogdanin Brothers, that combine leather with a piece of wool strainer from a Rhodope village and achieve a modern urban sense. My other approach is related with the development of modern graphic motifs out of Bulgarian embroidery, which I use for the production of different materials - textiles, plastics, paper, which are transformed into practical objects for everyday use - clothes, bags, cases for phones, notebooks. I've worked on the motif 'Elbetitza' (19th century embroidery pattern for the sleeves of a woman's shirt/ Rhodope Mountains , Southern Bulgaria) alongside the Bulgarian artist Nikolai Shushulov - Elbetitza has really deep symbolic meaning and endless possibilities for interpretation. I like symbols like Elbetitza, which have drawing character. Such elements could be found in heritage from Dupnitsa and Samokov - they are very beautiful and they don't look similar to any other culture's motifs, unlike some other Bulgarian symbols which remind about Mexico or Ukraine, for example. This is not bad and it is understandable, but I'm looking for something different, so I think in the future to develop some motifs from Samokov and Dupnitsa. I am also working on some other visual and cultural themes - for example, Kukeri, they are a whole Universe.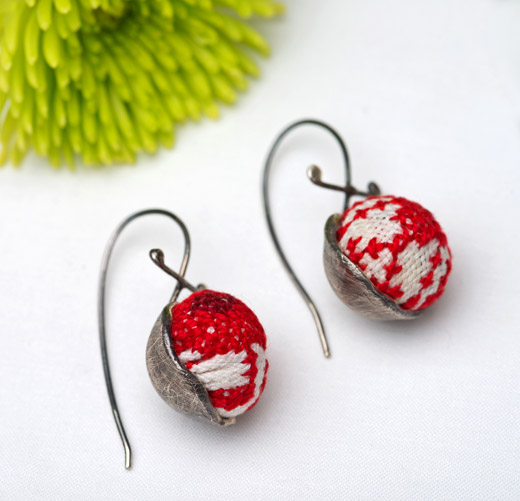 Earings, designed by Bulgarian artist Bogdana Topreva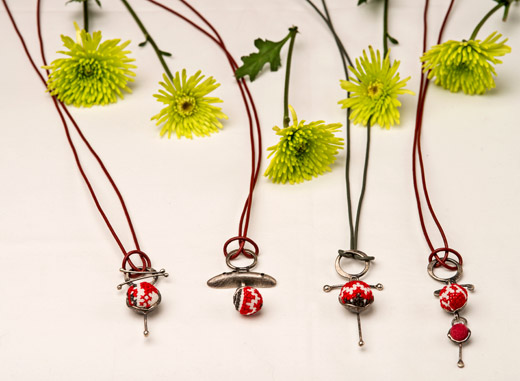 Jewelry, designed by Bulgarian artist Bogdana Topreva


Handbag by Bulgarian craftsmen Bogdanin Brothers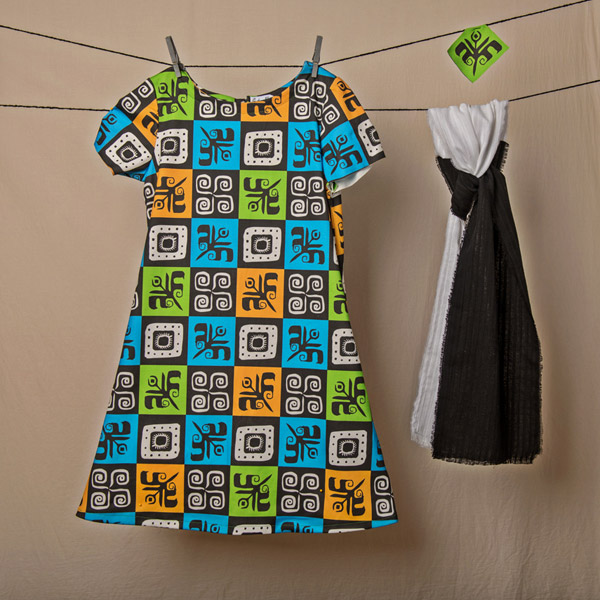 Lady's dress with symbol 'Elbetitza', textile design: Nikolai Shushulov

- How do local people accept the products with Bulgarian folklore motifs? Are you customers mainly Bulgarians or there are many foreigners, too?
- From the beginning of the store - a year and a half - my clients are mainly Americans or foreigners, who live in the USA. I have just a few Bulgarian customers, although I put effort to advertise GaitaniNY in the Bulgarian community in New York. I am sorry for this - I dreamt it would be the opposite way… But surely there are many reasons for that and they could be explored.

- What is most wanted - clothes, accessories, home decoration?
- I sell through the online store and through contributions of art & craft fairs. Customers are mainly women, Americans, and they mostly choose jewelry, accessories (scarves, bags) and clothes. Household items (pillows, blankets) have success, too.

Phone covers with symbol 'Elbetitza',
Graphic design: Nikolai Shushulov

- From what other nationalities, except Bulgarian, are the designers that you work with? How do you find them?
- I work with designers from Japan, Georgia, Czech Republic, the USA. I choose both Bulgarian and international designers by two criterions - first, I should like their work, it has to make me an impression with something exciting, depth, different, and second - they should have positive perception of Bulgarian traditional creativity - they must be interested and enjoyВ using it as an inspiration or a starting point. I find them by constantly searching into the world of design and art around me - here in New York and in Bulgaria. I really love Bulgarian artists, they look inside out, but I find it very interesting to work with foreigners, because their look is different, and this enriches and expands the picture.

- GaitaniNY has a social element, too - tell us more about it.
- The social element is that I spend part of the income to support people and causes for social justice. I am currently involved in a campaign, supporting a group of poverty-struck immigrants in New York who struggle against exploitation in the restaurant business.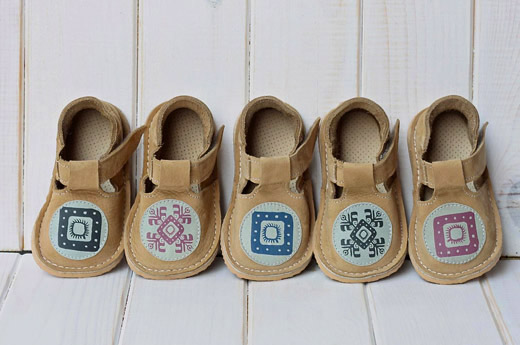 Kids leather shoes from collection 'Elbetitza', made by
Bulgarian company Zea Zoo


- What are your future plans for the development of Gaitani NY?
- I think to make apparel collections, inspired by Bulgarian costumes. I'll start with costumes from Thrace region - they are very beautiful, consisting of a shirt, a wool tunic and an apron. The collection will make a modern interpretation of every part's cut and will also use decorative elements (gaitani, embroidery, appliques) as an inspiration for contemporary details on clothes and accessories. After that I want to repeat the whole process with a Karakachani's costume - for me, it is one of the most interesting costumes. I want to continue working on the theme 'kukeri' and start graphic development of embroideries from Dupnitsa and Samokov. There are so many beautiful things for inspiration and work… it's endless.



For more information and orders: http://www.gaitaniny.com/


Hits: 1226 | Leave a comment
Author: Veselka Petrova
The voice of the professionals in the men's suit business
If you want to share your knowledge and contribute to the site, please email us at contributor@bgfashion.net Don't miss this opportunity as this will be a free advertisement for yourself and your menswear brand.