Aleksandra Petrova: Future clothing will new functionalities
Aleksandra Petrova has a High School diploma in Clothing Design and Construction, as well as a BSc in Fashion from the Bulgarian National Academy of Arts (NHA). Aleksandra is a graduate in Scenography and Costume Design from Accademia di Belle Arti di Venezia (Venice Academy of Fine Arts) through the Erasmus program and is currently perusing a Master degree in Costume Design at the NHA in Sofia. At the moment, Aleksandra is working on the completion of her graduation project. She's designing the costumes and building the characters for the Shakespearean comedy Cosi fan tutte (The School for Lovers).
For her, prof. Lyubomir Stoykov (one of Aleksandra's tutors at NHA) says: "Aleksandra Petrova is a representative of the current extraordinary new generation of fashion artists. They possess and blend in themselves qualities such as novel thinking, high level of awareness, creative courage, love for the craft and limitless capacity for progression. In Aleksandra's style, I mostly appreciate her sense of unity and versatility when incorporating ideas, genres, and techniques. She's equally skilled in giving birth to the form of the visual configuration as well as to the robustness of the construction…"
The talented young designer creates outfits suitable for special occasions and stage performances. She's seduced by the opportunity to do clothes for both women and men. Aleksandra enjoys working for men as she thinks the challenge there is bigger, "males are way more demanding and pay greater attention to details." As Aleksandra noted herself, she creates outfits that flatter the body and don't hide it. In her practice, the clothing aims to enhance the physical silhouette of the person.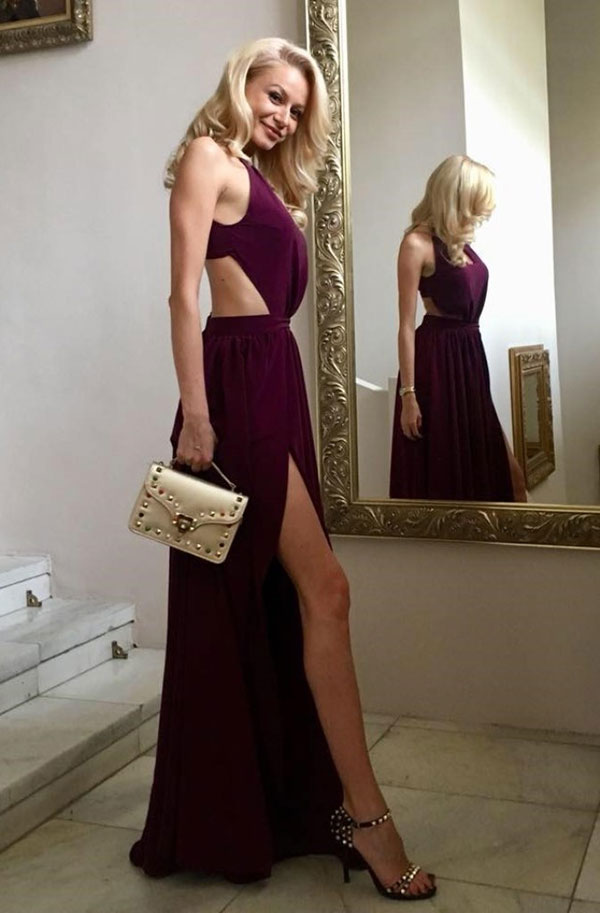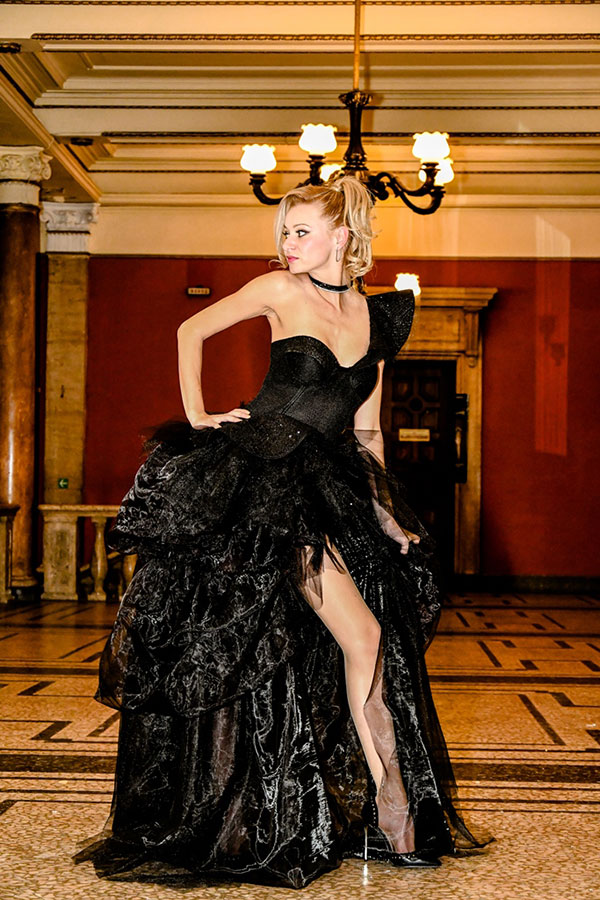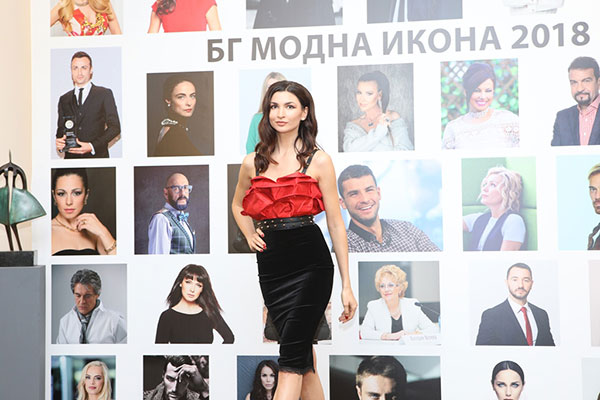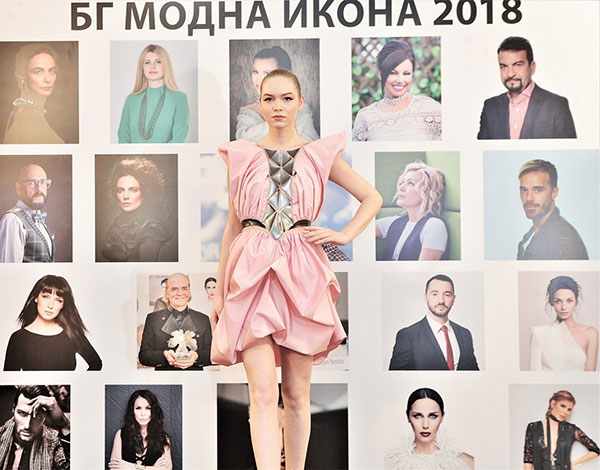 Since early childhood, Aleksandra is fascinated by fabrics, shapes, and patterns which results in her diving into fashion while experimenting with her clothing. For her style, Aleksandra shares that she always wears a watch and loves role-playing as determined by her moods – one day she wears herself as a tomboy, while on the other is a delicate lady. Her designs are characterized by geometrical shapes, and the interplay between color, textiles, and materials to achieve a balancing mixture of fineness and aggression.
Aleksandra's creations are intended for the fearless women, those who freely express their personalities and rebellious nature through their outfits. Her inspiration comes from a desire for prosperity and progress as for now each following project ends up being better than the previous ones. As an artist, Aleksandra's hopes and dreams are for great opportunities to continue coming her way.
Aleksandra's endeavors include her participation in some of the major events held by the Fashion Academy. Notable is her appearance at the Bulgarian Fashion Icon 2018 show, where she presented an independent collection of formal attire for women. The creations for the fashion show featured elegant, feminine dresses, charged with a rebellious spirit, tranquility, and aggression, hidden together under vails of organza, taffeta, and lace. As for the strict silhouettes and the static shapes, Aleksandra has chosen fine and soft neoprene, skillfully decorated with crystals. Playful layers of tulle and chiffon have been paired with leather and steel studs as a symbol of aesthetic belligerence.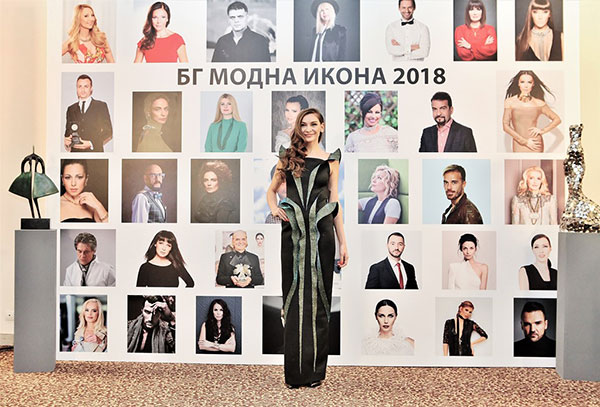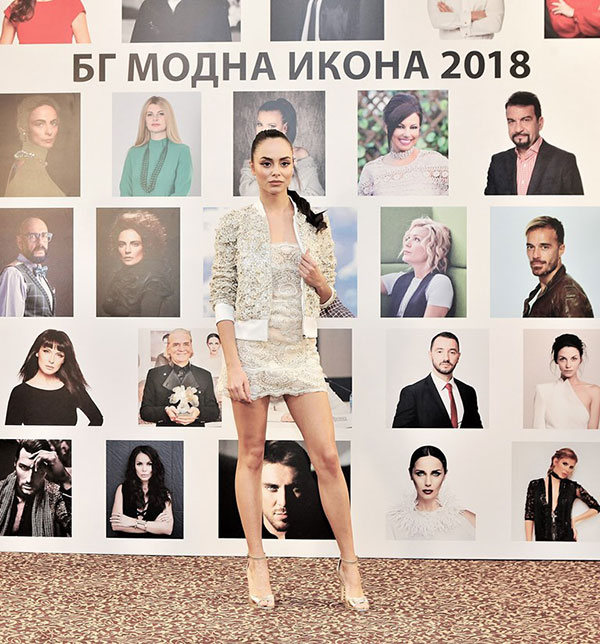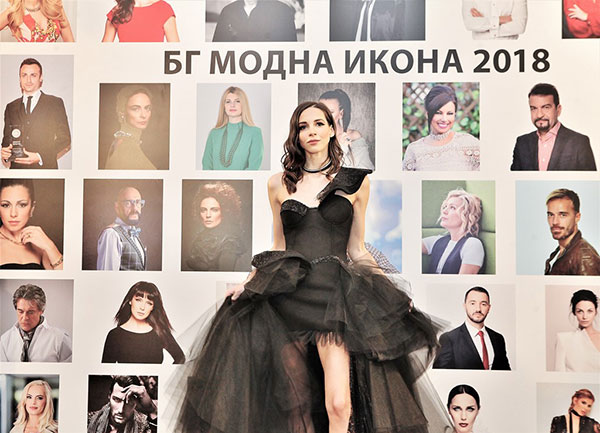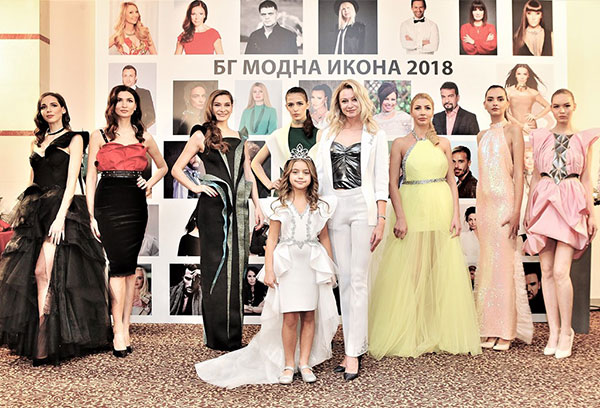 Among other prestigious artistic activities is Aleksandra's participation at the Art Night event held by Accademia di Belle Arti di Venezia at the time of the Venetian Biennale in 2015. For a few years now, Aleksandra's been designing the stage costumes for the opening of the international Surva Folk festival. Each year, the festival takes place in her hometown, the city of Pernik and is officially recognized by UNESCO as one of the Intangible Cultural Heritages of Humanity. Again, in her hometown, Aleksandra has been part of the art program which had celebrated 90 Years the City of Pernik. "The show was a chronological perspective on fashion development that has been happening in the city across the years up until nowadays. At the opening, vintage silhouettes from the Boyan Danovski theatrical repository were presented, and at the end, my designs closed the catwalk by showcasing contemporary fashion."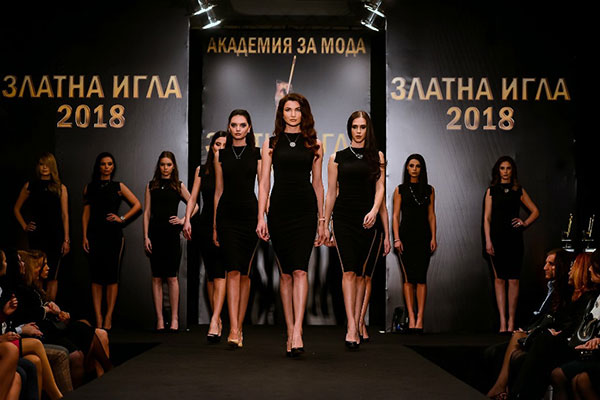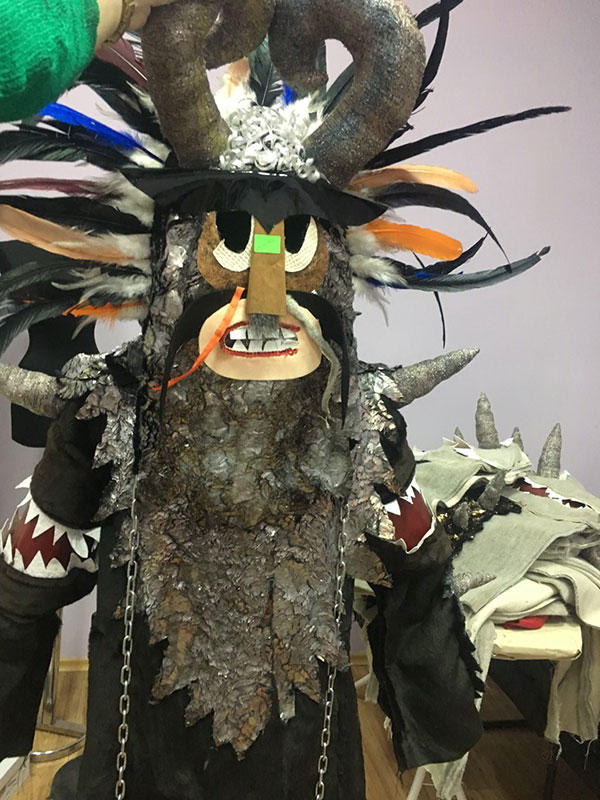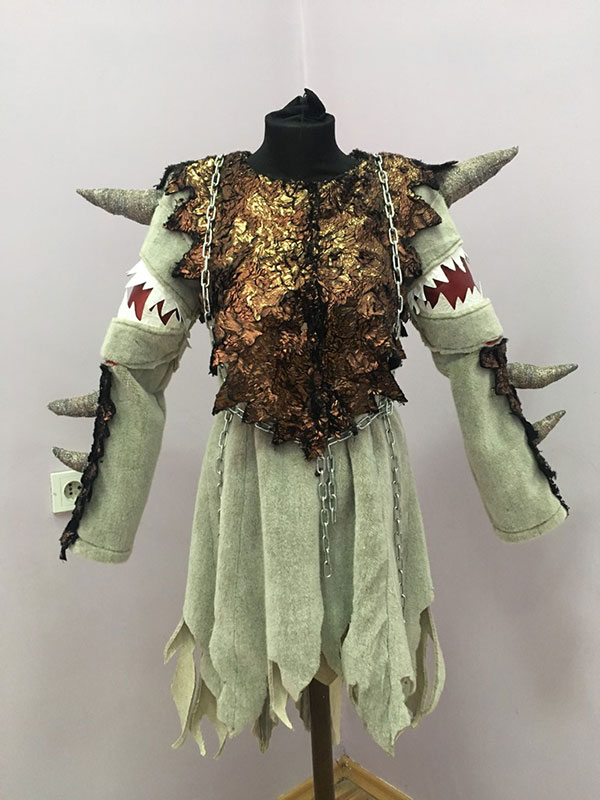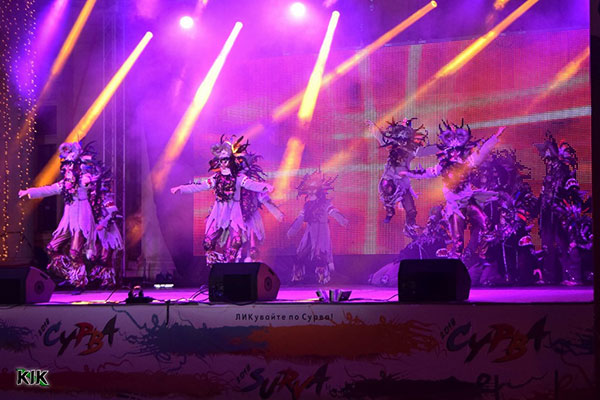 "The invisible beauty" organized by the Moga Sam (I can on my own) foundation is yet another project where Aleksandra contributes with her skills after an invitation received from Assoc. Prof. Mariela Gemisheva. Her designs address the needs of people with motor disorders who use wheelchairs. "There's such a big difference between the cuts for a straight posture and those for the sitting one. What also matters is the dressing style, the fastening, the seaming as well as plenty of other specifics dependent upon the individual's needs. I've made two men suits for my model – Iliyan, who became a good friend of mine."
Among Aleksandra's favorite designers are Thierry Mugler, Alexander McQueen, and Hussein Chalayan. In Mugler's work, she appreciates the distinctive style, the womanly silhouettes and the sense of perfection in all of his creations. As for McQueen, she finds impressive his ability to integrate contrasting elements like delicate with rough fabrics, and metal together with leather. Chalayan, on the other hand, is incredible because of his techniques, transformations and futuristic ideas. Aleksandra is convinced that "The successful artist, overall, is the one who's style is easily recognizable."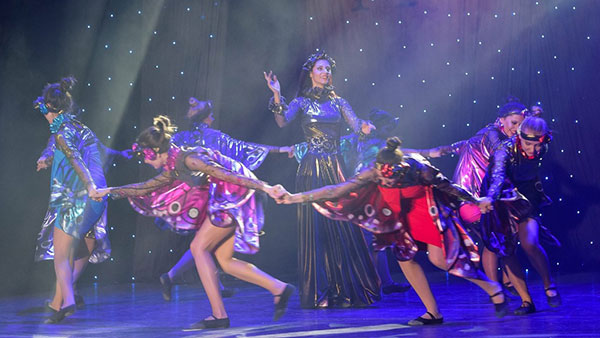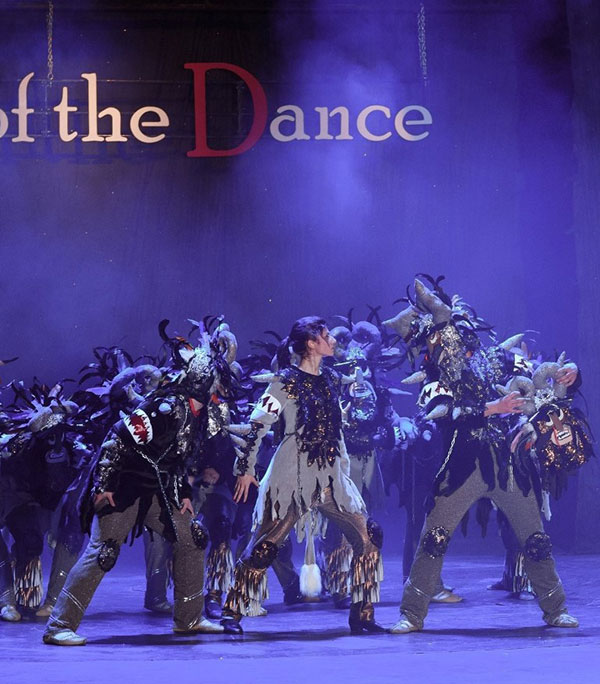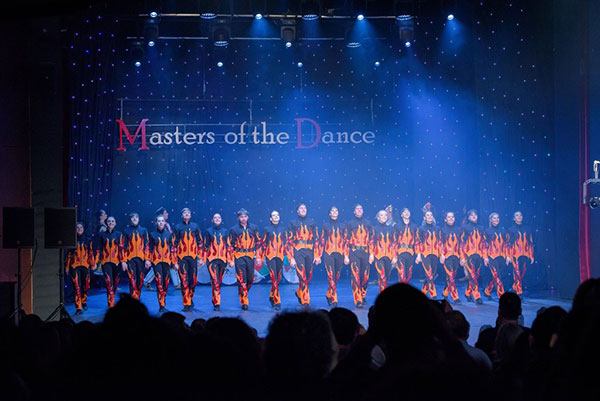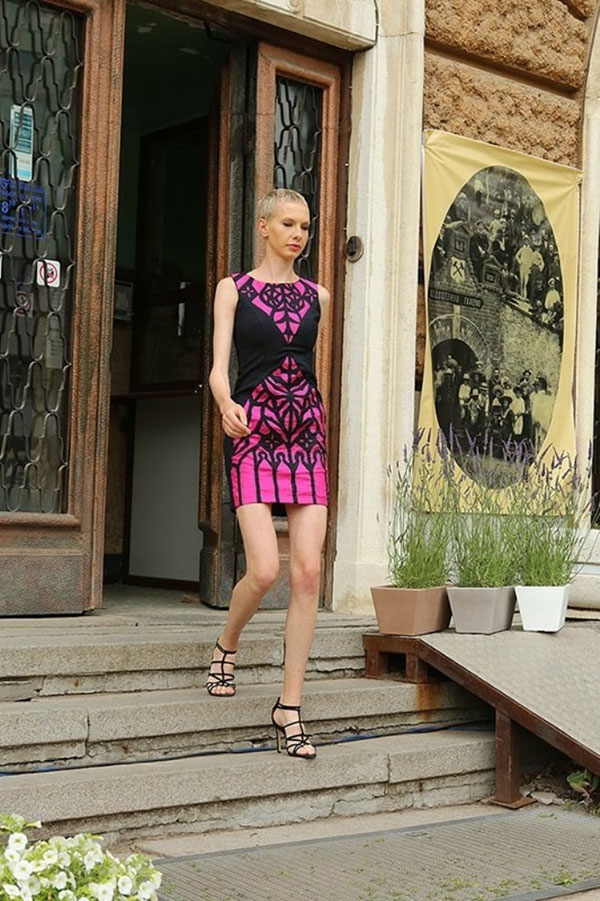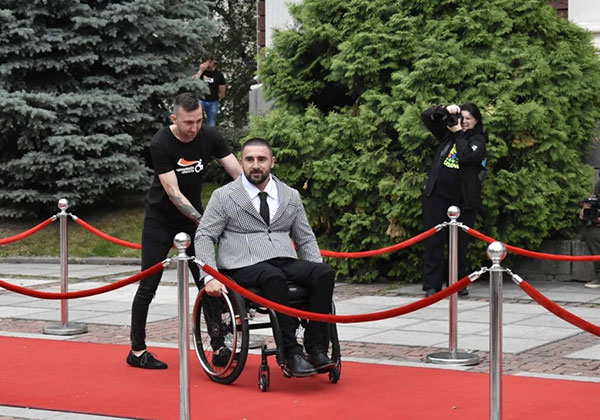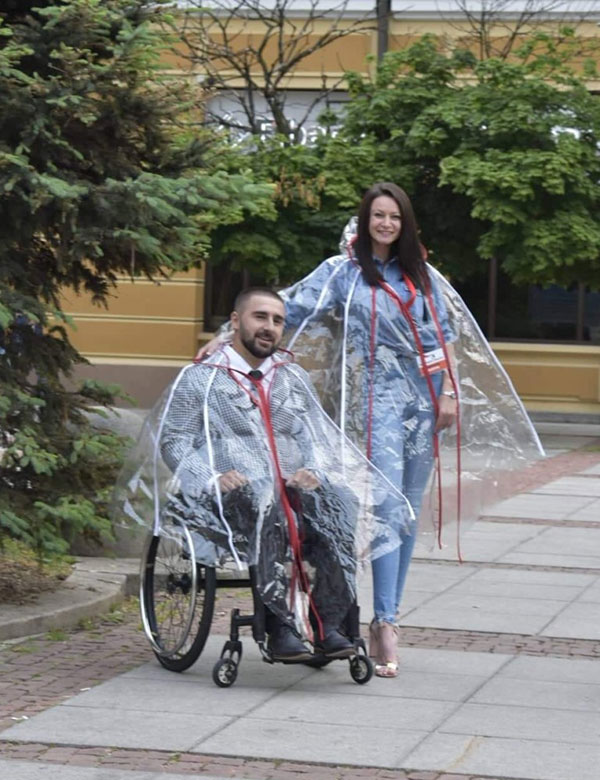 Here are Aleksandra's thoughts on the future of the fashion industry: "I expect that in the future, we'll have less desire to hoard clothes and items in general. We'll embrace minimalism. What's more, due to the fast-paced technological development, some functionalities of clothing won't be needed anymore in the future, people will have newer demands as determined by the trends taking place in the future." Aleksandra shares the opinion that the fashion industry will become much more nature-friendly and stakeholders will consider the resources used in the manufacturing as much as those used in their daily lives. "The process has already begun; numerous fashion brands and designers are currently cooperating with scientists to invent novel biodegradables and recyclable materials."

Photos:
1.- 3. Aleksandra Petrova
Photo: Personal archive of Aleksandra Petrova
4. – 9. Bulgarian Fashion Icon 2018 show - an independent collection of formal attire for women, designer Aleksandra Petrova.
10. Aleksandra Petrova at the final of the Bulgarian Fashion Icon 2018 show with the models presenting her collection.
11. Golden Needle 2018 Catwalk - Jewelry collection, models wearing elegant black dresses designed by Aleksandra Petrova.
Photo: Highlife
12. Aleksandra Petrova and Prof. Lyubomir Stoykov. Prof. Lyubomir Stoykov is wearing black neoprene suit designed by Aleksandra Petrova.
Photo: Kalin Stoykov
12. – 14. Traditional mummer costume designed by Aleksandra Petrova
15. – 18. Stage performance with costumes designed by Aleksandra Petrova
19. – 20. 90 Years the City of Pernik – Clothing designed by Aleksandra Petrova
21. "The invisible beauty", Iliyan wearing a suit designed by Aleksandra Petrova
22. Aleksandra Petrova and Iliyan.
Photo: Personal archive of Aleksandra Petrova


Hits: 1 | Leave a comment
Author: Boyana Ivanova
The voice of the professionals in the men's suit business
If you want to share your knowledge and contribute to the site, please email us at contributor@bgfashion.net Don't miss this opportunity as this will be a free advertisement for yourself and your menswear brand.